Krawchuk, Andrii, Bremer, Thomas (Eds.) Churches in the Ukrainian Crisis.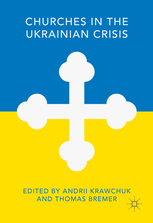 This volume explores the churches of Ukraine and their involvement in the recent movement for social justice and dignity within the country. In November of 2013, citizens of Ukraine gathered on Kyiv's central square (Maidan) to protest against a government that had reneged on its promise to sign a trade agreement with Europe. The Euromaidan protest included members of various Christian churches in Ukraine, who stood together and demanded government accountability and closer ties with Europe. In response, state forces massacred over one hundred unarmed civilians. The atrocity precipitated a rapid sequence of events: the president fled the country, a provisional government was put in place, and Russia annexed Crimea and intervened militarily in eastern Ukraine. An examination of Ukrainian churches' involvement in this protest and the fall-out that it inspired opens up other questions and discussions about the churches' identity and role in the country's culture and its social and political history. Volume contributors examine Ukrainian churches' historical development and singularity; their quest for autonomy; their active involvement in identity formation; their interpretations of the war and its causes; and the paths they have charted toward peace and unity.
For more informations please vist the website.